Franchises Business in Entrepreneurship – Full Entrepreneurial Overview
Franchise Business in Entrepreneurship – If buying an existing business doesn't sound right for you as an entrepreneur but starting from scratch sounds a bit intimidating, you could be suited for franchise ownership. Then this article is for you. Through this article, we are discussing;
Franchises in Entrepreneurship Meaning
An organizational structure that is largely employed by service-based industries is franchising entrepreneurship, in which independent enterprises operate under a common trademark utilizing a common production method. Currently, a significant and expanding portion of retail trade and services are provided globally through franchising. Franchises have made it possible to develop networks of manufacturing and service firms that can replicate for consumers a consumption experience spanning time and geography.
One advantage of the franchisor's help and direction as a franchise business owner, includes training, marketing, and continuous operational support. For those who wish to start their own business but want the benefits of an established brand and tested business plan, franchising might be an alluring choice.
In consumer-oriented industries including restaurants, lodging, car repair, real estate, hair styling, and specialty retailing, where it often accounts for 30 to 40% of sales, franchising has a significant and noticeable presence as an organizational form. Franchises are widely used in a variety of business activities, including temporary employment, commercial cleaning, printing and copying, tax preparation, and accounting. Home health care, commercial signs, and additional education are all expanding industries.
Franchising works like this as a business model. A franchise is a legally binding contract that enables a local businessman (the franchisee) to market products or render services using the franchisor's name and to employ a certain production process. McDonald's is one instance of a franchisor. The franchisee pays a one-time amount known as a franchise fee when they sign a franchise agreement. Following contract signing, the franchisor provides the franchisee with the services required to open the location, such as training, production process blueprints, and occasionally assistance with site selection or construction management. To open the specific site, the franchisee normally makes the necessary investments in land, buildings, and machinery.
The franchisor offers periodic franchise inspections (to make sure that operating standards are being met), access to trademarks, and marketing assistance when the franchise opens (such as advertising and new product development). In exchange for these services, the franchisee pays a royalty on sales, which normally ranges between 1% and 10%, as well as a royalty for marketing costs, or the "advertising fee," which ranges from 0% to 6%. Typically, franchisees do not market the franchisor's goods (although exceptions exist). The franchise chain consists of both units owned by the franchisor and those franchised to regional operators. Both operate under the same trademark and use the same production technique. In reality, the majority of chains are made up primarily of franchised locations.
Franchises Business Model
As you are already familiar with, a franchise is a kind of business license that allows a franchisee to use the franchisor's name and brand while having entrance to the franchisor's proprietary company knowledge, operational techniques, and trademarks. An upfront start-up fee and continuing licensing costs are often paid by the franchisee to the franchisor in dealings for a franchise.
The franchise business concept may be traced back to the Medieval Ages when feudal lords granted peasants particular permits to utilize their land in exchange for a portion of the profits. The contemporary franchise concept as we know it today was developed in the 19th century, nevertheless.
Organizational, marketing, and distribution systems created by the McCormick Harvesting Machine Company and the I.M. Singer Company are acknowledged as the precursors to franchising. Due to the enormous amount of manufacturing, new business models were created, enabling McCormick and Singer to offer reapers and sewing machines to a growing domestic market.
The favor of fast-food chains like McDonald's, which popularized the idea of a standardized system for operating a firm, was a substantial factor in the evolution of the franchise model in the middle of the 20th century. Almost every industry now utilizes franchises as a quick and effective method of business expansion, from hotels to restaurants to fitness centers.
Franchise agreements can take hundreds of various forms, but three are the most popular. They consist of:
1. Business format franchise – The most typical kind of franchise agreement is this one. In this business model structure, the franchisor authorizes a third party to function under their trademark and employ their business strategy in return for fees and a regular share of sales income. Under this model, franchisees are managed under the policies and regulations of the parent company.
2. Product franchise – The first type of franchise agreement is this one. In this system, the franchisees only sell or distribute the franchisor's goods.
3. Manufacturing franchise – This franchise business model grants third-party producers the sole authority to create and market goods using the trade name and trademark of the franchisor.
Franchises Business Entrepreneurship Using Business Model Canvas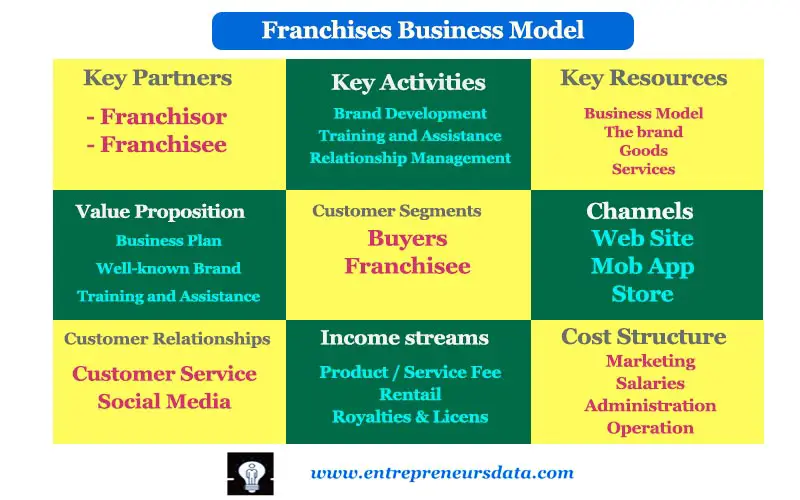 Key Partners
The franchisor is the primary partner in a franchise business arrangement. In addition to training and support, the franchisor gives the franchisee access to the name, goods, and services.
Key Activities
A franchise business model's primary tasks include brand development and upkeep, training and assistance for franchisees, and relationship management between the franchisor and franchisee.
Key Resources
The brand, goods, and services, as well as the methods and procedures that the franchisor has created to assist the franchisee, are the primary resources in a franchise business model.
Value Proposition
A franchise company model offers access to a tried-and-true business plan and a well-known brand, which can boost the likelihood of success. The training and assistance offered by the franchisor to franchisees are also advantageous to them.
Customer Segments
The client segments in a franchise business model include both the end users of the goods or services offered by the franchisee and the potential franchisees who are thinking about investing in the enterprise.
Channels
To entice potential franchisees, a franchise business model employs marketing and promotion strategies. It also provides franchisees with access to support systems and training programs that help them manage their businesses successfully.
Customer Relationships
The majority of customer relationships in a franchise company model are between the franchisee and their clients. However, the franchisor is also involved in upholding the clientele's and the brand's general reputation.
Income Streams
The fees and royalties that franchisees pay to the franchisor in exchange for the right to use the brand, goods, and services are the franchise business model's income streams.
Cost Structure
A franchise business model's cost structure includes expenses for creating and preserving the brand as well as those related to giving franchisees support and training.
Characteristics of Franchises in Entrepreneurship
Working with Established Brand
Franchises earn from a created and successfully marketed brand that is already in place. In comparison to starting a new company from scratch, this brand recognition can help draw clients and foster trust more quickly. Due to brand recognition and expectations, customers may be more likely to visit a McDonald's or Subway restaurant.
The brand of a franchisor is its most significant asset. The ownership structure of a corporation is irrelevant to customers as long as the brand lives up to their expectations. You must establish ties with your customers if you want to run a profitable franchise. They will choose to deal with you because of the caliber of your offerings and the close connection you have with your buyers. But because they trust the brand to honor its commitments, the franchisor and the other franchisees in the system rely on you to uphold their standards.
Proven Business Model, Standardized Systems, and Processes
Franchise businesses have a tried-and-true business strategy that has been enhanced over time. As a result, by learning from others' mistakes and avoiding creating their own, the franchisee can improve their chances of success. The franchisee benefits from a system that has already been developed and put to the test, eliminating the need to test out potentially poor business concepts.
Franchise firms can aid in ensuring consistency and quality across all locations by putting in place standardized processes and procedures. This could refer to anything, such as the production procedure or retail design. By adhering to these rules, franchisees may provide a consistent customer experience that meets the brand's expectations.
Training, Marketing, and Advertising Support
To help franchisees get up and running more quickly and avoid common mistakes, franchisors provide training and support. This could include initial training on how to run the business, continuing support to address operational concerns or questions, and access to a network of other franchisees who can offer advice and support. For new business owners who might not have much experience, this can be extremely helpful.
Franchise firms frequently provide marketing and advertising support to franchisees. This can include assistance with developing and implementing regional marketing strategies, local advertising campaigns, and marketing assets like signage and promotional brochures. By making use of the marketing resources provided by the franchisor, franchisees can benefit from increased brand exposure and recognition.
Access to Suppliers
Franchise businesses usually have established relationships with their suppliers, allowing franchisees access to premium products and services at reduced costs. Then, franchisees can take advantage of any volume discounts that the franchisor can negotiate with suppliers. This could help the franchisee cut costs and increase profits.
Shared Costs System
Economies of scale allow franchise businesses to share expenditures like marketing and advertising, product development, and purchasing, which can lower franchisee costs. Franchisees can save money by spreading these expenses over several sites as opposed to beginning a company from scratch.
Limitations and Guidelines
Franchisees often have to abide by rules and limits in franchise operations. There may be laws governing the business operations, the outcomes that can be sold, and the promotion of the brand. The franchisee's creativity and flexibility may be constrained by these restrictions, but they are essential to maintain the brand's consistency and the high standard of goods and services at all locations.
Royalty Fees System
Franchise firms often demand recurring royalties from their franchisees in the form of a percentage of their sales. Usually, these costs go toward maintaining and expanding the franchise system. The franchisee's profitability may be impacted by these fees, but they also grant continued access to the franchisor's resources and support.
Established Market Presence
Franchisees may find it simpler to draw customers because franchise businesses already have a strong market presence. This can be especially useful in competitive markets where consumers are more likely to select a well-known brand over an upstart.
Lower Business Risk
It might be risky to launch a company from scratch because success is not guaranteed. Franchises, however, can present a lower-risk alternative because the business strategy and brand have previously been successfully tested. This can be extremely helpful for business owners who may be risk-averse or have no previous experience establishing and running a company.
You can market the franchise location to someone else if things don't work out. The brand name is still valuable, after all. It doesn't follow that person else can't run that business just because you can't.
Ongoing Support and Development
To ensure their long-term success, franchise businesses often offer franchisees continual training and development. This can involve making changes to the business strategy, introducing new goods or services, and providing continuing assistance and training. Franchisees can continue to expand and modernize their business by keeping up with market developments and best practices.
You should consider the support you will receive and how well the franchisor is managing the evolution of the goods and services to ensure that it keeps up with shifting consumer expectations when choosing a franchise system to invest in.
Examples of Franchises in Entrepreneurship
McDonald's Franchise Business
Mcdonald's brand is a great example of a franchise in entrepreneurship. They make money by offering franchisee agreements to their partners. While the company is a huge player in the fast-food market they have an impressive growth strategy as a franchise business. They open a new store somewhere around the world every 14.5 hours.  They have established and enforced high food safety and quality standards and maintain quality centers around the world designed to promote consistency of these high standards.
7-Eleven Franchise Business
For business owners who enjoy interacting with customers in a busy setting, 7-Eleven franchises are ideal. With its large selection of products, which ranges from household supplies to snacks and beverages, 7-Eleven differentiates itself as a one-stop shop for customers. According to the latest statistics of NACS (2022) 148,026 such stores are operating in the United States. They guide their business investors through a strong training program that helps them successfully run the business.
Anytime Fitness Franchise Business
A gym chain called Anytime Fitness was established in 2002. It is renowned for providing a more individualized workout experience and for being convenient and 24/7 accessible. One of the fitness industry brands with the quickest rate of expansion, Anytime Fitness has more than 4,000 facilities across 50 countries. Entrepreneurs wishing to launch their fitness enterprises have access to franchise options through Anytime Fitness.
Tutor Doctor Franchise Business
A tutoring franchise that offers in-home tutoring is called Tutor Doctor. It was established in 2000 and is renowned for its individualized method of instruction. With over 600 locations across 15 countries, Tutor Doctor has aided over 200,000 students in raising their academic performance and grades. Tutor Doctor provides franchising opportunities to businesspeople who want to launch their tutoring operation.
Jimmy John's Franchise business
A sandwich restaurant franchise called Jimmy John's was established in 1983. It is renowned for its quick service, freshly made bread, and basic sandwich and side menu. Jimmy John's is one of the sandwich franchises expanding at the fastest rate, with more than 2,800 sites across the nation. Entrepreneurs who want to start their restaurant can get a franchise from Jimmy John's.
The UPS Store Franchise business
Well-known franchise brand UPS Store provides shipping, printing, postal, and associated business services to the business community. One of the biggest retail franchises in the entire globe, they. In the US and Canada, there are more than 5,000 locations for UPS Stores. Franchisees may launch swiftly and accomplish their business goals thanks to The UPS Store's well-known brand and tried-and-true business strategy. The 40 years and proven profitability and growth track record is giving us evidence of how successful they are as a franchise entrepreneur.
Great Clip Franchise business
The hair shop chain Great Clips was established in 1982. It is renowned for its reasonably priced haircuts, accessible locations, and no-appointment-needed business strategy. With more than 4,400 sites across the US and Canada, Great Clips is one of the largest hair salon franchises in the world. For company owners wishing to launch their hair salon, Great Clips provides franchising opportunities.
H&R Block Franchise business
H&R Block is essentially a tax preparation company. They provide a variety of tax-related services. Tax planning, filing tax returns, and borrowing in anticipation of a refund are all covered. Additionally, the company will handle filing anyone's return electronically. The company also sells tax filing and preparation software that will guide you through the procedure. The increasing need for tax-related services as a means of long-term financial success creates franchise potential for H&R Block.
Conclusion
Franchises Business is a great entrepreneurial model that entrepreneurs can use to expand their business as well as doing investments for established ventures. In the past, only a few businesses used this model. In highly complex business environments and business competition, entrepreneurs often use the franchise business model.
Through this article, we discussed what an actual franchise business is from an entrepreneurial view, the franchise's business model, its characteristics, and real-world examples of it. If you are an entrepreneur franchise model is a great one for your business expansion. It can be applied both internationally and at the national level. The franchise model is also a terrific way for you to learn if you are new to the world of entrepreneurship.
So what are your ideas about this article as well as the franchises in entrepreneurship? Feel free to drop your thoughts in our comment section.
---