Youth Entrepreneurs Characteristics with Examples of Youth Entrepreneurs
Youth entrepreneurs are the future entrepreneurs of the world. According to the GEM perspective on youth entrepreneurship 2015, youth are more likes to start a business than adults. In this article, we are going to elaborate following topics
Youth Entrepreneurs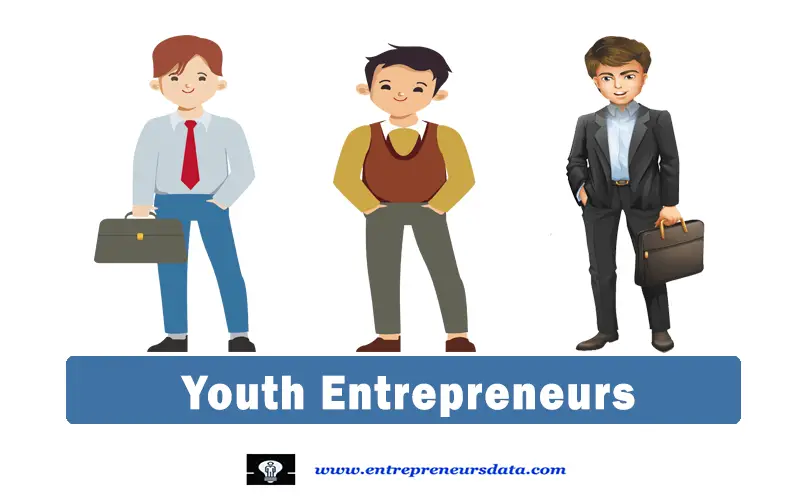 Youth Entrepreneurs as considered entrepreneurial individuals between the ages of 15 to 24 years. This definition is a statistically oriented definition defined by the United Nations Organisation. There is no argument youth are the future of our world.  In today's context of the world, these youth entrepreneurs are the bearers of new tendencies and the development of knowledge. Experiences in the expansion of entrepreneurship in the world indicate the growing role of youth entrepreneurs in achieving sustainable development and common prosperity in their countries, and more broadly.
Youth entrepreneurs play a key role in the development of competitiveness at a national level. We all know now we are in a fast-growing digital world. These youth entrepreneurs adapt faster to technological achievements and the principles of global business. Involving young people in the world of entrepreneurship is giving more advantages. Reducing unemployment rates, helping technological development, improving creativity, and sustainability, and solving current and future business and development challenges are some of these advantages of Youth entrepreneurship.
Youth Entrepreneurship Definition – Click here
Many studies show a gender gap between men and women among youth entrepreneurs. Youth men have more entrepreneurial intentions than youth women. Financial limitations, social barriers, and family issues are some reasons for this. Removing those barriers and promoting youth women's entrepreneurship is another task that the world of entrepreneurship has today.
Youth entrepreneurs face many challenges in their entrepreneurial careers. Lack of finance, access to funding, education and training, infrastructure for entrepreneurial activity, and networking issues are some of them.
Compared to the other entrepreneurs the level of education among youth entrepreneurs is low. Most youth entrepreneurs have only finished their primary education or part of their secondary education. This is a common big issue among youth entrepreneurs. Knowledge and entrepreneurial skill are really important for growing as a youth entrepreneur. University education is not common among youth entrepreneurs.
Also, there are differences in the level of education between youth entrepreneurs and youth employers.  Comparing different learning contexts like family, secondary school, training courses, university, and work experience youth employers tend to have a university education. But work experience is the main way in which youth entrepreneurs learn. So it's really important to give proper knowledge to these youth individuals to grow as youth entrepreneurs. Policymakers and institutions need to pay attention to this.
Youth become entrepreneurs, especially for a few reasons. Giving more contributions to society, achieving economic independence while increasing their income, getting the best output from their knowledge, and finding new solutions to overcome problems are some of them. Let's find out some special characteristics of youth entrepreneurs.
Importance of Innovation in Entrepreneurship – Click here
Characteristics of Youth Entrepreneurs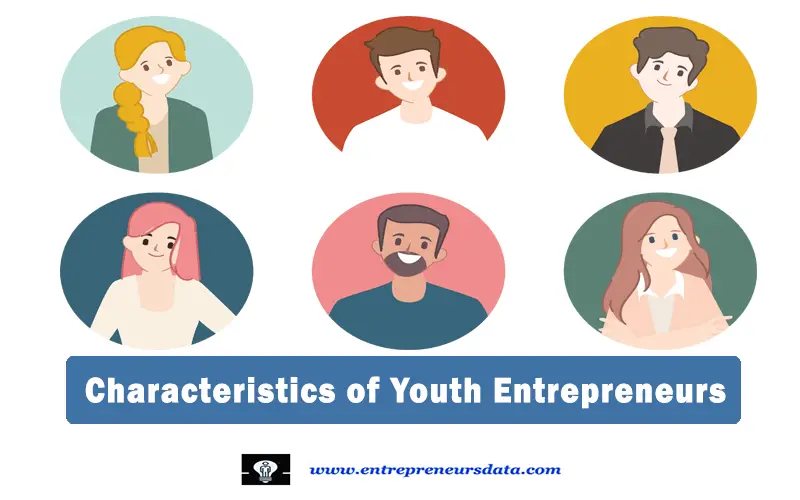 Youth entrepreneurs have special characteristics other than usual entrepreneurs. Those characteristics are,
Let's discuss those youth entrepreneurial characteristics one by one.
1. Youth Entrepreneurs are More Likes to Start Businesses than Adults
Youth are typically more active in starting a new business than adults. Achieving economic independence, exploring new opportunities, and having creative solution-making ability are some reasons for starting a business as a youth entrepreneur. 
2. Youth Entrepreneurs Starts Individually
73% of businesses run by youth under 24 years are one-person businesses. Lack of network-building opportunities and self-independency are some reasons why youth entrepreneurs start a business as an individual. When they build their network by maturing they start to go for partnerships and agreements.
3. Youth Entrepreneurs are More Technology Oriented
Technology is very nearly to youth these days. Because we are living in a digital world where so much technological innovation happening. Youth like to use these new technologies and they like to explore more things by using those.  A young emerging entrepreneur like Mark Zuckerberg also became a technopreneur by using technologies at the age of 19.
4. Youth Entrepreneurs are Creative
Compared to adult entrepreneurs to youth entrepreneurs in generations, Y and Z are more creative. Also, these generations are more globalized than others. They are updating quickly and they try to explore and implement new things every day.
5. Youth Entrepreneurs Fearless to Brake Status-Quo
Status-quo is the current knowledge, current technology, and current solution. Youth entrepreneurs are likes to find new knowledge, new technologies, and new solution by breaking current the status quo. They don't consider the cultural and other barriers to breaking the status quo.
Corporate Entrepreneurship – Click here
6. Youth Entrepreneurs Have Financial Barriers
Youths are not financially independent persons. Most youths are depending on their parents. Finding finance is one of the most significant barriers that young entrepreneurs face. As youth, they need to spend a lot more time on their studies and also some legal barriers to work.
7. Youth Entrepreneurs are Lacking Entrepreneurial Knowledge
Youth have less experience compared to adult entrepreneurs. Still, they are studying or, in a process of their internship. Also, most of these youth entrepreneurs do not have proper entrepreneurship education. Still, students have fewer opportunities for entrepreneurship education. To take good output from these youth entrepreneurs we need to give them entrepreneurship knowledge.     
What is Entrepreneurship Education? – Click here
Examples of Youth Entrepreneurs
Hart Main
At age 13 Hart Main developed the product of manly scented candles. His parents financially contributed to begin the business. They worked together to develop the candles named Mancans. In 2016, Hart's candle sales exceed six figures annually.
Lily Born
Lily Born is an inventor. She invented the three-legged cup, known as the Kangaroo cup. She started her company called Imagiroo LLC. Today, she is passing the age of 16 and sold tens of thousands of Kangaroo cups worldwide. She is a great inspiration to children as a youth female entrepreneur.
Ryan Hickman
Ryan Hickman is a youth social entrepreneur. When he was 13, he started a new nonprofit Project 3R which educates and stresses the importance of recycling to kids and adults worldwide. He sells T-shirts bearing the message, "Make the Sea Trash Free" by using his website.
Hillary Yip
Hillary Yip is born in Hong Kong. She started her entrepreneurial career at age 10. She developed an online education platform for children. It is called MinorMynas. By using this platform children can learn different languages, chat, and make friends across countries.   She is famous as the youngest CEO in the world right now.
Moziah Bridges
Moziah Bridges is a fashion-related young entrepreneur. He started Mo's Bows, by first learning to sew from his leftovers from his grandmother's sewing projects. He started making his high-quality ties by hand and selling them on Etsy. He appeared on "Shark Tank," is now 20 years old, and has sold more than $700,000 in handmade men's ties and accessories.
Conclusion
Through this article, we identified individuals doing entrepreneurial activities between the ages of 15 and 24 years who are considered Youth entrepreneurs. Then we identified the youth entrepreneurship characteristics. Youths like to start businesses more than adults, most youths start individually as their entrepreneurial career, technology orientation, creativity, fearless to break the status quo, financial barriers, and lacking entrepreneurial knowledge are some of those characteristics that youth entrepreneurs have. Lastly, we gave some examples of youth entrepreneurs in the current context. Write up your thought about youth entrepreneurs in below comment section.
---