Barriers to Entrepreneurship with Solutions (fully explained)
Barriers to Entrepreneurship with Solutions: – In general, barriers to entrepreneurship are the frameable perceptions in entrepreneurs' minds concerning starting and managing new businesses. But some barriers depend on entrepreneurs' internal weaknesses, their countries' economic status, culture, and the political environment. Barriers don't matter to entrepreneurs they are working to overcome those barriers with solutions. In this article, we are going to discuss the barriers faced by entrepreneurs and how to overcome those barriers with solutions.
Explain Barriers to Entrepreneurship
Explain barriers to entrepreneurship: – Every entrepreneur can not achieve instantaneous success. They faced so many obstacles to achieve success. Barriers are obstructions that prevent movement in entrepreneurs' journey. But entrepreneurs are capable of winning those barriers and achieving success.
There are many types of barriers to entrepreneurship. Internal barriers to entrepreneurship and external barriers to entrepreneurship are the major partitions we can identify when discussing barriers to entrepreneurship. In detail, we can identify Personal barriers to entrepreneurship, financial barriers to entrepreneurship, environmental barriers to entrepreneurship, cultural barriers to entrepreneurship, policy barriers to entrepreneurship, and economic barriers to entrepreneurship.
These barriers are good learning for entrepreneurs. Overcoming barriers is part of entrepreneurship. But entrepreneurs need to be good enough to overcome those barriers by creating and improving their skills. Also, government and other social institutions have part of this to help entrepreneurs to overcome those challenges.
Read Corporate Entrepreneurship – Click here
Barriers to Entrepreneurship with Solutions
Barriers to Entrepreneurship with Solutions: – In this section, we are discussing the common barriers entrepreneurs face in today's context.  These barriers depend on entrepreneurs' characteristics, personal capabilities, and countries' social and economic situations. Those barriers are,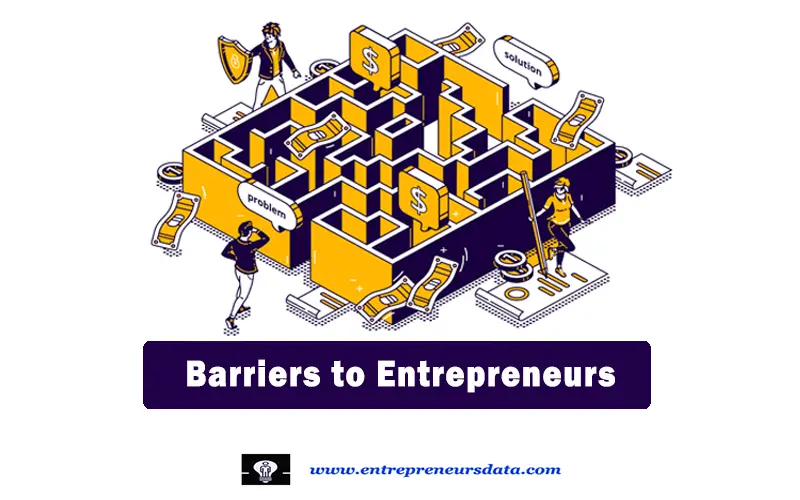 Let's discuss those barriers to entrepreneurship with solutions one by one.
Lack of Money as a Barrier to Entrepreneurship
A lack of money is one of the prominent barriers to entrepreneurship. It restricts the depth of opportunities that entrepreneurs have when they want to begin their businesses or get into the next step of their business. No matter how good your idea is, you will always require stable finances and funding from investors to start the process and take the first step toward your entrepreneurship journey.
Many banks, private investors, angel investors, and associations find it quite challenging to believe in start-up ideas owing to the risk of failure and losing their money. Also, this will depend on the country's economic position. Compared to Europe countries most Asian countries are not in a stable economic position. Their financial sector cannot provide enough finance to upcoming entrepreneurs. Let's see what solutions we can take to overcome this barrier.
Solutions for Lack of Money Barrier
It's ok. Entrepreneurs are born to overcome barriers and make successful journeys. Lack of money is a popular barrier in the world for entrepreneurs. It's critical to think differently when it comes to funding your start-up so that you don't have to depend on a bank or investor.
Entrepreneurs can use the start small and grow big strategy to overcome the lack of money barrier. Also, entrepreneurs can use shared profit agreements with other resource holders. It will help them to run their business with the necessary resources. Also, they can spend some time finding an investor for their venture.
The government has a lot of tasks to sort out these barriers. They need to establish institutions to help entrepreneurs to get their necessary funds, Run special projects to join entrepreneurs with investors. By using these things we can overcome the Lack of Money barrier.
Technopreneurship – Click here
Managing Finances as a Barrier to Entrepreneurship
We all know entrepreneur is a creative and innovative character. But when it comes to financial management they struggle a bit. There are some reasons for this. Entrepreneurs are a lot more focused on their output. In that case, they will lose their budget when relying on making quality output.
On the other hand, most entrepreneurs do not have proper financial knowledge. When it comes to the developing stage of their company they will face a lot more problems relating to managing finance.  Investment decision-making, budgeting issues, financial resource allocation, and working capital issues.
Solutions for Managing Finances Barrier
The first thing that entrepreneurs can use to overcome the managing finances barrier learn how to manage finance as an entrepreneur. You can use expert views of your problems before taking a decision. When you reach the development stage of your business you need to hire a potential group of people to manage finance in your company. It gives you much more time to focus on your innovation and other entrepreneurial activities.
Entrepreneur and Technopreneur – Click here
Lack of Experience as a Barrier to Entrepreneurship
This barrier is related to young entrepreneurs as well as the newcomers who newly entered their market. We can call this inadequate market experience / less market experience as well. Experience is a thing that you can not buy. You learn things as an entrepreneur by going through your entrepreneurial journey. Tuff situations teach you more lessons.
But avoiding inexperience and making good decisions are important as an entrepreneur. Missing competitive advantages and not handling the situation correctly are some affect entrepreneurs face as a result of lack of experience. There are some tips to overcome the lack of experience barrier.
Solutions for Lack of Experience Barrier
Indeed, you can not buy experience by yourself.  But you can hire experienced people to do your task, and take your decisions. This hire can be situational, short-term, or even longer run as well. Also if you do a good environmental analysis before making your decision, it is helpful to overcome the lack of experience as a barrier to entrepreneurship.
4ps of Innovation – Click here
Fear of Failure as a Barrier to Entrepreneurship
Fear of Failure can call a fear of not being a success as well. Entrepreneurship is a mindset. As an entrepreneur, if you have a clear vision and commitment to that vision you do not need to be afraid of failure. But as a start-up entrepreneur, you may think a lot more about the initial finance, investors, ideas, and many more things in your starting point as an entrepreneur. All these things will create pressure on yourself and will generate fear of failure in your mind. Not only start-up entrepreneurs but also experienced entrepreneurs have this fear of failure barrier. They will face this barrier when they have family issues, financial failures, and instability of their business. But entrepreneurs are born to overcome these barriers.
Solutions for Fear of Failure Barrier
Fear comes when you lose your confidence as an entrepreneur. If you know what exactly you doing and what results you will achieve then you don't have fear you have confidence. You can achieve this through planning. As a start-up entrepreneur, you can create a proper business plan. It will help you to minimize your risk and identify what problems you need to be faced. If you are an established entrepreneur then you can use well-prepared plans for your upcoming projects. It will help to overcome the fear of failure barrier as an entrepreneur. Another thing is building a feasible think tank in your company. It also helps to overcome the fear of failure by taking the right decision at right time.
Businessman vs Entrepreneur – Click here
Not having Backup Plan as a Barrier to Entrepreneurship
Backup is always good before you start diving into the massive field of entrepreneurship. But most entrepreneurs not having a back plan. This backup plan can be related to their business field or not. What a backup plan gives you is it gives you some comfort zone when you failed in your field of entrepreneurship. This backup can be another business idea you can perform by using current business resources or, another income source you can earn by using your current skills.
Solutions for not having Backup Plan Barrier
It is really simple. You need to create a backup plan as an entrepreneur. For example, think you are selling used cars. As a result of the economic collapse in your country, people reduce the demand for buying cars. Then you can go with renting out vehicles as a backup plan. If you have troubles with your plan "A" then you can go with your plan "B". This is the back plan.
Entrepreneurial Process – Click here
Limiting to One Income Source as a Barrier to Entrepreneurship
Why do entrepreneurs limit to one income source in their business? Because they not identifying the other opportunities related to their business. Limiting to one income source is not healthier for your business. It is riskier. We can't predict today's business environment. It changes rapidly and as an entrepreneur, it's very important to have three or more income sources related to your business. 
Solutions for Limiting to One Income Source Barrier
Income source identification needs to be done in the business planning stage. Having three or more income sources is healthier. If you didn't do it in your business plan stage you can identify other income resources by doing an environmental analysis and swot analysis. This will help sustain and achieve a lot more growth in your field as an entrepreneur.
Different Types of Innovation – Click here
Political Barriers to Entrepreneurship
We all know how important countries political environment is for entrepreneurs' success. If the country's political elements do not take the right decisions it becomes a barrier to the success of entrepreneurship. Governments need to provide special security to new ventures to secure them from market competition. Then, small entrepreneurs can survive in the market. An entrepreneur must consider the political factors carefully before set-up a business. It is very beneficial for the long-term survival and development of the business.
Solutions for Political Barriers to Entrepreneurship
As an entrepreneur, you can not control this political environment.  Especially if you are a small entrepreneur.  But you can make a solution as a community group. You can make an entrepreneur association and submit proposals to the government or make a sound to the government. This is how you can overcome political barriers to entrepreneurship.
Lack of Contacts as a Barrier to Entrepreneurship
A lack of contacts can call a network-building issue as well. Contacts are really important to entrepreneurs. You do not need to spend money to build contacts. But some entrepreneurs are not good at building contacts or creating networks with communities. You can build new markets, expand your business scope, get more knowledge and find new opportunities through entrepreneurial contacts. There are some ways and tools to build entrepreneurial contacts.
Solutions for Lack of Contacts Barrier
There are many tools entrepreneurs can use to build contacts or entrepreneurial networks. Entrepreneurs can join entrepreneurship forums to share their knowledge and build contacts. Also, entrepreneurs can build community networks in their businesses. And entrepreneurs can build contacts through online networking platforms like LinkedIn, Facebook, and Instagram. These tools help to get in touch with potential investors, partners, or even employees.
Start a Business in Europe – Click here
Entrepreneurship Education Underdevelopment as a Barrier to Entrepreneurship
Entrepreneurship education is not more developed as expected yet. It is under development now. There are limited curriculums to teach entrepreneurship.  These teaching methods also a lot more focus on teaching entrepreneurship theories to the students than giving entrepreneurial experience. As a result, the expected quality is not in these students. These students have the desire to be entrepreneurs. If they lose their desire it is also a big barrier related to the field of entrepreneurship.
Solutions for Entrepreneurship Education Underdevelopment Barrier
Entrepreneurship plays a critical role in countries' development. It is important to invest more in developing entrepreneurship education. Also giving entrepreneurial experience need to be part of entrepreneurship education. This can be done by giving them chances to do business while they study. Also, governments can introduce entrepreneurial training centers and incubation centers to develop entrepreneurship education. So these are the solution for entrepreneurship education underdevelopment.
Corrupt Business Environment as a Barrier to Entrepreneurship
We can discuss the corrupt business environment in two ways. The first one is corruption in organizations. This will happen as a result of not maintaining proper business rules, business culture, and business processes. The second one is corruption environment in the country. Entrepreneurs can't control this. If the environment of the country is corrupt then it does not inspire young entrepreneurs. Countries' corruption results can identify through the world corruption index.
Different Views of Intrapreneurship – Click here
Solutions for Corrupt Business Environment Barrier
Corruption affects your organization well being as well as damages the organization's reputation. Maintaining proper business rules, building ethical business culture, and introducing transparency in business processes are solutions for corrupt business environment barriers. To improve the country's corruption results, policies need to be changed. Those changes can identify through by referring world corruption index.
Types of Barriers to Entrepreneurship
We conclude the types of barriers to entrepreneurship in the following summary chart. It includes entrepreneurship barriers, barrier types, and solutions for those entrepreneurship barriers.
Entrepreneurship Barrier
Barrier Type
Solutions for Entrepreneurship Barrier
Lack of Money
  Personal / Economic
Use the start small and grow big strategy
Use shared profit agreements
Finding suitable investor
Managing Finances
  Personal
Learn to manage finance
Use financial expert views of your problems
Hire potential employees related to finance
Lack of Experience
Personal
Hire experienced people
Do good environmental analysis
Fear of Failure
Personal
Plan before start
Minimizing family issues
Minimizing financial failures Stabilizing business
Not having Backup Plan
Personal
Create a backup plan
Do environmental analysis
Limiting to One Income Source
Personal
Recreate business plan
Environmental analysis Swot analysis
Political Barriers
Environmental
Build entrepreneur association
Submit proposals to the government
Do protest with your views
Lack of Contacts
Personal
Join entrepreneurship forums
Build community networks with employees
Use online network platforms
Entrepreneurship Education
Personal / Environmental
Giving entrepreneurial experience to students
Introduce entrepreneurial training centers
Introduce entrepreneurial incubation centers
Corrupt Business Environment
Environmental
Maintaining proper business rules
Building ethical business culture
Introducing transparency to business processes
Government policy changes
Types of Barriers to Entrepreneurship with Solutions
Conclusion
In this article, we explained the barriers to entrepreneurship and what types of barriers are related to entrepreneurship. We said these barriers depend on entrepreneurs' characteristics, personal capabilities, and countries' social and economic situations. Not only the barriers we gave solutions to overcome those barriers. We gave you a lot more knowledge about barriers in entrepreneurship through this article and feel free to write down your thoughts in our comment section.
---