Intrapreneurship | Different Views of Intrapreneurship
Intrapreneurship is one of the emerging fields of the entrepreneurship context in today's world. More organizations are now promoting their employees to work entrepreneurially within the company to launch more innovation projects, faster and more efficiently. In this article, you can learn
Intrapreneurship Meaning
The term "intrapreneurship" was first introduced by Gifford and Pinchot in 1978. He used intrapreneur to define a person who acts as an entrepreneur but within their role as an employee or worker of an organization. This represents that intrapreneurship is entrepreneurship within an existing organization.
Different terms are used to describe intrapreneurship. Internal corporate ventures, internal entrepreneurship, and corporate entrepreneurship are some of them. The most famous term is corporate entrepreneurship and is used both by public companies and private companies all over the world.
Below we include different thoughts about intrapreneurship. You can think and discuss what is perfectly suited to describe intrapreneurship.
Intrapreneurship is a formal or informal activity that aims to create or develop new business in the company via product and process innovation, as well as market development.
Intrapreneurship can be defined as an innovative instrument for creating new competencies and accessing new markets.
Intrapreneurship is a phrase used for medium and large organizations that have entrepreneurial character. Intrapreneurship can also be analyzed as a process where an individual or group creates a new business within a company, renews and updates a company, or creates an innovation.
Intrapreneurship is the procedure during which opportunities are observed and the business takes risks voluntarily.
Intrapreneurship tries to remodel and remake the primary idea of entrepreneurial activities leading to the creation of a new enterprise within the organization.
Intrapreneurship is a procedure that helps businesses in terms of inventing new production methods and processes, renew themselves, and become the top in their market.
Intrapreneurship is the strategy of creating new services, products, or processes creatively by determinating opportunities in the business environment and creating possibilities within the resources of an organization.
Intrapreneurship is determined as being key to an organization's new venture creation and strategic renewal.
Intrapreneurship is the collection of the individual knowledge, skills, and abilities of the organizational human resources rather than personal differences or similarities.
Technopreneurship – Click here
3M, Apple, GE, IBM, Intel, and Toyota are some Examples of organizations that have initiated to use of the concept of intrapreneurship since the 1990s. By allocating their employees' time to work creating innovative ideas, products, and services companies like Transcorp, Indofood, and Telkom also executed intrapreneurship.
Let's talk about some more deep insights into Intrapreneurship.
Intrapreneurship itself is to create an entrepreneurial environment within the business by enabling the innovation process for employees. Employees are conditioned to enhance traditional ways of thinking. Through intrapreneurship, we can motivate them to be able to create new ideas. This helps companies by utilizing company resources for creating truly new products.
youth entrepreneurship – Click here
Intrapreneurship can view as a corporate strategy update. This can be done by acquisition, making major transformations in the operational system, both marketing and distribution, and product development.
Being a pioneer in recognizing and hunting new opportunities and participating in emerging markets is closely associated with the activities of intrapreneurship.
A critical reason why intrapreneurship has attracted so much engagement is that it offers opportunities that result in innovation that boosts business performance.
Intrapreneurship is usually concentrated on activities outside of the principal activities of the business to provide more significance and consolidate the competitive position of the organization.
Intrapreneurship is a unique type of entrepreneurship and thus shares numerous critical behavioral characteristics with this wide concept. It includes taking initiative, the pursuit of opportunity, and some piece of novelty.  At the same time, intrapreneurship also belongs to the domain of employee behavior and thus faces specific restrictions. It includes imposing corporate hierarchy and an intra-organizational context on personal initiative, as well as specific prospects for help that an existing business may offer to a nascent intrapreneur.
The core elements of intrapreneurship are also deeply linked to imagination. It includes exploring possible obstacles and issues facing the project and figuring out different solutions.
Intrapreneurship can be concerned from two aspects.
Intrapreneurship is a set of fine business techniques that gives full credit to people with an entrepreneurial character to innovate quickly in large organizations not only for the usefulness of the latter but also that of the clients.
Intrapreneurship contains individual activities or team activities that behave in an entrepreneurial way, to serve the interest of very large companies and supply chains, with or without official support.
Creativity In Entrepreneurship – Click here
Different Views of Intrapreneurship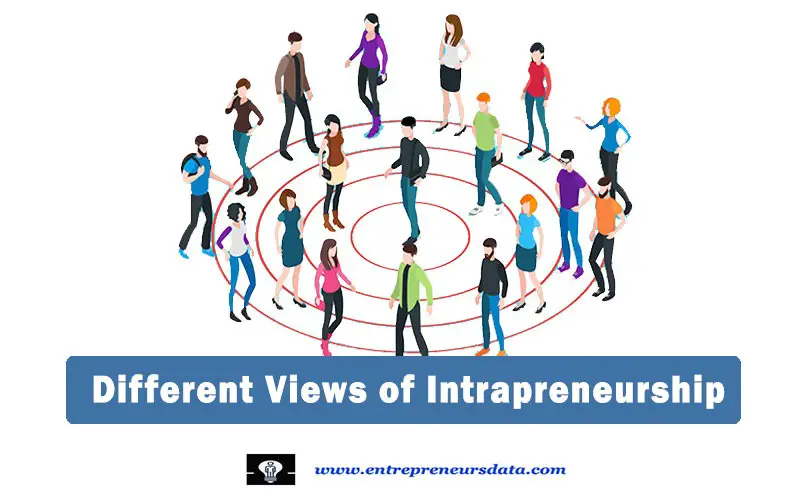 The concept of intrapreneurship has been defined in various ways. For easy understanding, we are going to discuss the concept of intrapreneurship in five ways.
Intrapreneurship in Large Scale Organization
Intrapreneurship in Large Scale Organizations- Intrapreneurship allows large Scale organizations to monitor their activities, continually innovate, and innovate systematically. An intrapreneurship makes an entrepreneurial environment by permitting workers to use their entrepreneurial talents for the advantage of both the company and the worker. It gives workers the freedom to experiment, as well as the prospect for growth within an organization.
High competencies decide that intrapreneurial organizations will be able to enhance and convert their routines into entrepreneurial activities to integrate, produce, and reconfigure internal and external resources.
Intrapreneuring is recognizing and reflecting the characteristics and qualities of real-world entrepreneurs on a personal level and incorporating these entrepreneurial characteristics and qualities into large-scale organizations. To do this large Scale organizations can acquire entrepreneurially encouraging behaviors. That will contribute to creating new business opportunities for large-scale organizations by using intrapreneurship.
Corporate Entrepreneurship Advantages – Click here
Intrapreneurship in Existing Organizations
Intrapreneurship in Existing Organizations- Intrapreneurship or corporate entrepreneurship is usually referred to as entrepreneurship within an existing organization. It contains the approach of creating new business, new products, and new processes within an organization by enhancing organizational profitability and worth by providing the organization with a competitive advantage.
The spirit of intrapreneurship is the spread of entrepreneurial thinking into the organization. Intrapreneurship is a phenomenon of empowering employees within the organization, by appreciating their ideas and offering them a chance to convert those into a profit-making model for the business. Allowing employees to dedicate their time to futuristic ideas, on the one hand, helps organizations develop cutting-edge innovations and new revenue streams, while on the other, it functions as a great employee retention mechanism.
Intrapreneurship desires to mobilize and renew the current organization by strengthening and boosting the basic entrepreneurial skills of risk-taking, innovation, competitive behavior, and sales. To do this organization needs an intrapreneurial climate within an organization.
Characteristics of an entrepreneurial environment are: organization works on frontiers of technology, new ideas motivated, trial and error encouraged, failures permitted, no opportunity parameters, resources available and accessible, teamwork approach, long term horizon, volunteer program, proper reward system, sponsors and champions available, the backing of top management.
Businessman vs Entrepreneur – Click here
Intrapreneurship as an Employee Opportunity
Intrapreneurship as an Employee Opportunity- Intrapreneurship allows employees to innovate new products, services, or departments within their current workplace. It gives the chance for employees to act as entrepreneurs in the organization.
An intrapreneur is an employee of an established business who, on his or her initiative, becomes entrepreneurial in the sense of his or her employer. It's like a shortcut for becoming an entrepreneur because usually, we know a person carries a huge effect to grow as an entrepreneur by taking risks, breaking the status quo, accruing finance, and going through many more failures and tuff times in their entrepreneurial career. Compared to that Intrapreneurship is a shortcut to becoming an entrepreneur.
An employee wearing the intrapreneurial suite performs various sets of tasks. His or her roles range from being a decision-maker, and an innovator to a risk taker. Innovation is the key component of intrapreneurship. Re-designing, product extension, and the introduction of an old product in a novel market are some examples of innovation taking place in any organization.
Intrapreneurship can operationalize as employees create new business activities for their employer, including installing a new outlet or subsidiary and launching new products or product-market blends. Intrapreneurship helps to develop employees' entrepreneurial capabilities while helping to improve their skills.
Barriers to Entrepreneurship – Click here
Intrapreneurship in Workplace
Intrapreneurship in the workplace is defined as the presence of individuals in the workplace, who work within the organization in activities that result in production, service, and process innovation. Nobody understands your business better than your employees. Any employee could be grabbing onto a crown jewel of an idea that, if voiced, has the potential to make a huge, positive impact. Companies that hear to employees are more profitable than their competitors.
Intrapreneurs are those who have intrapreneurial morale within the organization, who see and grab the opportunity to innovate, but who can turn these ideas and models into real activities that improve the profitability and competitive strength of the business they are in, not just carrying in innovation.
Intrapreneurship in the workplace is a type of entrepreneurship that has developed into a new concept and has proven itself in an organizational network or an established company, and has initiated development and communication with other people, it incorporates and evaluates them with their skills and values.
There is stagnation and a shortage of innovation in an organization in which entrepreneurs perform only their functional roles with lower risk. Intrapreneurship concentrates on reinvigorating and improving the qualities of an organization to acquire the skills and capabilities that can drive innovation activities.
Intrapreneurship in the workplace helps executives to renew and revitalize their businesses, to innovate, and improve their overall firm performance. Intrapreneurship is an opportunity for top managers to gather and transform knowledge across the borders of the organization. Further, organizations can create groups in which every person has intrapreneur possessions instead of having to train every employee. Intrapreneurship in the workplace is a procedure wherein employees remain in an organization and commit a portion of their office hours to work on their ideas to develop advanced products to add to their company's list of offerings. Intrapreneurial firms as firms that keep discovering in a complex and dialectic way to determine unexplored opportunities.
Intrapreneurship as a System
Intrapreneurship as a system means intrapreneurship that enables the use of innovative processes and introduces transformation through risk and visionary behavior that allows planning, designing, and executing the expected innovation activities.
Intrapreneurship as a system appears from changes in organizations and the surrounding environment. While entrepreneurship focuses on the recognition and exploitation of opportunities. So intrapreneurship is more powerfully tied to the invention of these opportunities.
Intrapreneurship as a system also refers to initiatives by employees in organizations to launch new business actions. Intrapreneurship is a procedure, which appears in interaction with the environment. It appears that the environment plays a deep role in controlling intrapreneurship. The more dynamic, aggressive, and heterogeneous the environment, the more emphasis the organization puts on intrapreneurial actions.
Conclusion
Intrapreneurship is a developing novel business or redesigning a new business in an existing organization or a new organization. Intrapreneurship is an old concept but it is most valuable in today's entrepreneurship context.
Large-scale organizations view intrapreneurship as monitoring their entrepreneurial activities and building entrepreneurial culture within the organization. Intrapreneurship in an existing organization views intrapreneurship as creating new business, new products, and new processes within an organization by enhancing organizational profitability and gaining competitive advantage.
Intrapreneurship as an employment opportunity describes how employees can become entrepreneurs by using the Intrapreneurship concept. Intrapreneurship in the workplace views what tasks employees need to do in the workplace to become intrapreneurs.
Finally, we discussed Intrapreneurship as a system for identifying Intrapreneurship as a systematic approach. So, what are your views about Intrapreneurship? Write down in our comment section.
---