Corporate Entrepreneurship Advantages and Disadvantages (Fully Explained)
Corporate Entrepreneurship Advantages and Disadvantages:- Corporate Entrepreneurship is one of the emerging fields of entrepreneurship in today's digital world. In this article, you can find out why corporate entrepreneurship is important and what problems come when executing corporate entrepreneurship in today's business context.
Define Corporate Entrepreneurship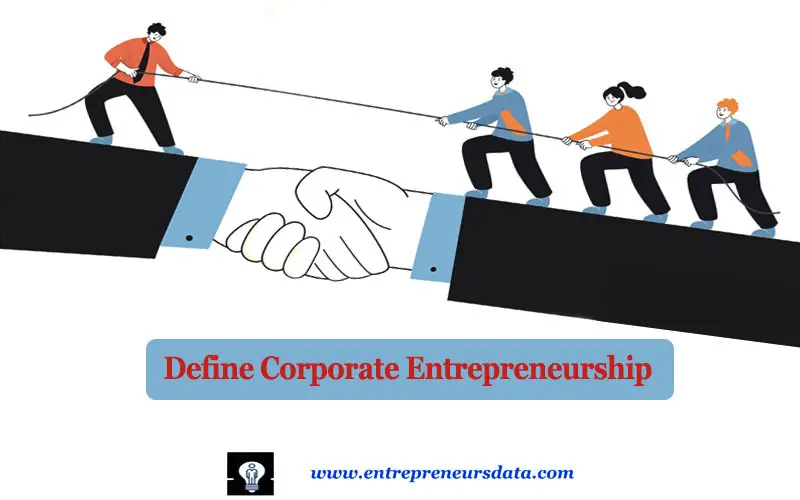 The 21st century related corporate entrepreneurship to firms' efforts to demonstrate sustainable competitive advantages as the basis for profitable development.  Corporate entrepreneurship can be characterized as all types of entrepreneurship that are performed under established companies. The name also knows for intrapreneurship in the business world.
There are two types of corporate entrepreneurship to identify.
1. Corporate venturing – In corporate venturing, we can identify new venture creation within current organizations.
2. Strategic entrepreneurship – On the other hand, strategic entrepreneurship is the transformation of a current business by using new or modified business strategies.
More about types of CE – Click here
Advantages and Disadvantages of Corporate Entrepreneurship
There are more advantages than disadvantages to using corporate entrepreneurship in today's business context. Let's discuss both advantages and disadvantages of corporate entrepreneurship in today's competitive business world.
Benefits of Corporate Entrepreneurship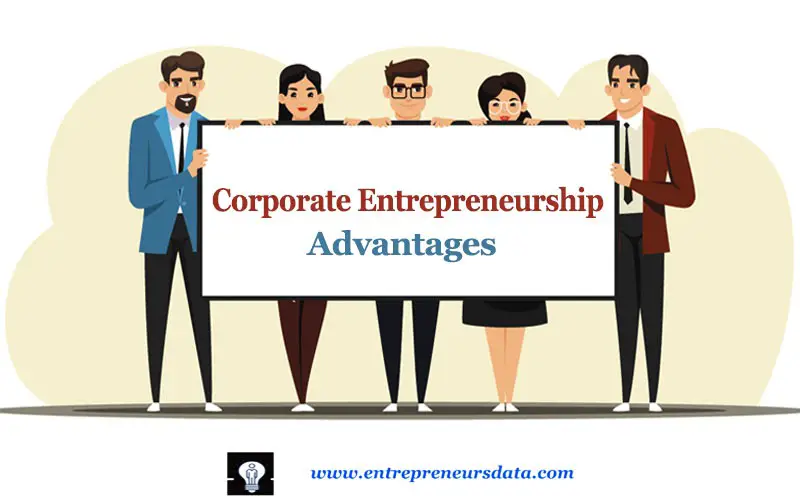 Due to the increasing dynamics and complexity of the corporate environment in this digital business era, the importance or the benefits of Corporate Entrepreneurship continuously increasing. We can identify the following advantages/benefits of the concept of corporate entrepreneurship.
Let's discuss above mention of corporate entrepreneurship benefits one by one.
Advantages of Corporate Entrepreneurship
Corporate Entrepreneurship Improves Competitive Positioning
Corporate entrepreneurship can make a considerable difference to a company's ability to contest. It can be used to enhance competitive positioning and transform corporations, their markets, and industries when possibilities for value-creating innovations. Corporate Entrepreneurship Push Companies to Use Range of Strategies
A critical benefit of corporate entrepreneurship may be to force companies to utilize a range of strategies frequently in unique combinations. By doing so, companies create layers of advantage by combining unique bases for competitive excellence.
Corporate Entrepreneurship Improves Organisation's Growth and Profitability
Many studies found that corporate entrepreneurship can enhance an organization's growth and profitability. When organizations use various new strategies to exploit the opportunities near them it will increase the organization's profitability and also the organization's growth.
Definitions for CE – Click here
Corporate Entrepreneurship Improves Organisation Performance
Corporate entrepreneurship enhances performance by boosting the company's proactiveness and willingness to take risks via the expansion of new products, processes, and services. There is a longitudinal result of corporate entrepreneurship on a monetary performance index composed of both growth and profitability indicators.
Corporate Entrepreneurship Help to Use Maximum Resource Usage
The most incredible advantage of corporate entrepreneurship is it delivers a reliable bunch of resources at its disposal. Start-ups especially have typical issues, for example – shortage of money or capital. However, a corporate entrepreneur remains forward of the others and has a bunch of resources.
Read about Technopreneurship – Click here
Corporate Entrepreneurship Is a Part of Organizational Learning
Going through the organization's ability to learn, corporate entrepreneurship directs to three types of new learning. Those are 1). Technical learning, 2). integrative learning and 3). Exploitative learning. By having these types of learning corporate entrepreneurship enables a learning environment in the organization.
Corporate Entrepreneurship Builds Recognition
Recognition is one of the numerous crucial elements in the industry. Every entrepreneur needs to function for the success of a business. As a starter, it needs to be passed down for the right utilization of your resources and opportunities. There is a need for years of years hard work to reach the highest that corporate entrepreneurship can give to entrepreneurs.
Read Entrepreneurial Process – Click here
Corporate Entrepreneurship Helps to Boost Sales
If we speak about corporate entrepreneurs, they will probably have a support or development team to boost sales on a distinct level. The major motivation behind them is most of them are already equipped with possible contacts to target potential companies or clients.
Corporate Entrepreneurship Promotes Entrepreneurial Behaviours
Whilst corporate entrepreneurship encourages entrepreneurial behaviors within an organization. It utilizes the fundamentals of management and used creativity techniques by adopting a behavioral style that challenges bureaucracy and encourages innovation.
Corporate Entrepreneurship Stimulates Innovation by Creating New Markets
Corporate entrepreneurship fosters innovation by exploring possible opportunities, resource investment, and implementation and commercialization of unique products/services. Firms should be creative to change or influence the marketplace, whilst creating new markets and new industries.
Read more about Creativity – Click here
Corporate Entrepreneurship Encourages Employees
Corporate entrepreneurship gives freedom to employees to do innovative things in their job roles. This will encourage employees. Also, providing rewards for innovative ideas, not punishing failures, and making a better environment for work help to encourage employees to work for the company.
Disadvantages Of Corporate Entrepreneurship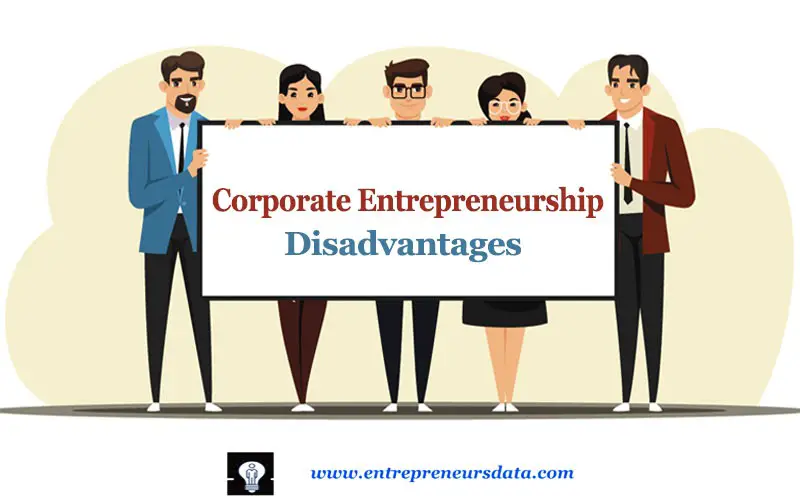 There are some disadvantages to corporate entrepreneurship. These disadvantages depend on how organizations are engaging with corporate entrepreneurship. Those disadvantages are,
Let's discuss the disadvantages of corporate entrepreneurship one by one.
Corporate Entrepreneurship May Not Be Stable or Suitable for The Start-Up
Many researchers have said the corporate environment may not be appropriate for innovating like a start-up. There is a poor fit between newly started businesses and old business systems. new businesses are quite distinct from the corporate background with cultures all their own. start-up firms operate differently in terms of their financials as well as their procedures compared to established firms. lack of inexperience, and not having a proper understanding of the market are some reasons for that.
Corporate Entrepreneurship may Appear Long Approval Cycles
Another big obstacle that corporate entrepreneurs face is their lengthy approval cycles. It needs to understand that employees can't take decisions on their own, and they need approval from their higher management first. So, it wastes lots of time. That might not be a proper option for many individuals.
10 Types of Innovations – Click here
Corporate Entrepreneurship may Limit Financial Rewards
There is a limit on what corporate entrepreneurs can receive regarding rewards from the company's side. It is because corporate entrepreneurship is a collective effort of creative team thinkers, as well as there, are a lot more tasks done by a corporate firm compared to others. this will reduce the financial margins of a firm. It might affect the morale of the company no one wants it at all.
Corporate Entrepreneurship Occurs Centralization Problems
We may create separate ventures from the existing venture in corporate entrepreneurship. this we call corporate venturing which is one of the main parts of corporate entrepreneurship. this corporate venturing creates a culture clash during the integration phase and a power struggle between firms.
Other Problems in Corporate Entrepreneurship
Shortage of Political Savvy
Absence of Rewards for Innovation
Lack of Good Financial Proposals
Not having enough employee Development Skills
The problem of Early Resources
Lack of Open Ownership
Shortage of Personal Renewal
Conclusion
Now you all know how many benefits corporate entrepreneurship gives in today's business world and what type of problems occur when we implement corporate entrepreneurship practically. So, what is your experience of corporate entrepreneurship? Write it down in our comment section.
---