Importance of Creativity in Entrepreneurship and Definitions of Creativity in Entrepreneurship (Fully Explained)
Importance of Creativity in Entrepreneurship: – Creativity in entrepreneurship is an important process which helps entrepreneurs create value, useful unique products, services, ideas, procedures, or processes. In this article, we are discussing,
After reading this article you can fully understand general definitions for creativity, organisational definitions for creativity, individual-level definitions for creativity, entrepreneurship definitions for creativity and what importance we can get through creativity.
Let's move on to the definitions of creativity.
Definition for Creativity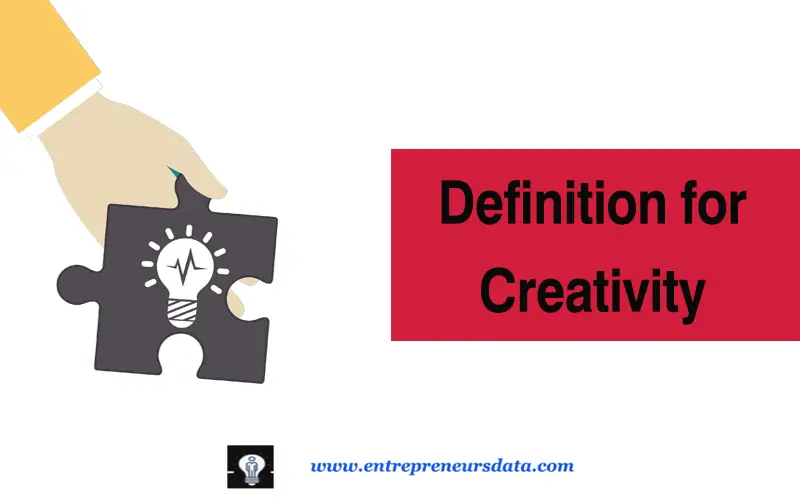 There are a lot of definitions for creativity from different points of view. Also, there is no universally accepted definition of creativity. To simply understand what is creativity?  it should define by the field of view. We break it down into several for your convenience. Those are,
Let's find out those parts one by one.
Technopreneurs Characteristics – Click here
General Definitions for Creativity
Creativity symbolises the art of giving birth to novel ideas and the method of expressing and developing such ideas into true value.
According to Bilton, creativity is highlighted as a key element in making a competitive advantage.
Ferreira and Filho said creativity and knowledge are seen as the key contests of modern business. The creative way of thinking leads to new knowledge, tactics and problem-solving.
Creativity is a driver of innovation and a significant factor in the development of individual, professional, entrepreneurial and social skills – this was supposed to Goldstein.
Wyckoff said creativity is the act of seeing things that everybody around us sees while making networks that no one else has made.
Creativity displays imagination and originality of thought in moving beyond everyday thinking. It can be categorized by extending or even breaking the rules of convention, with even the smallest departure from the norm being considered creative.
Corporate Entrepreneurship – Click here
Organisational Definitions for Creativity
Nair and Gopal clarify, that organizational creativity is the mental skill to produce novel and useful ideas by persons or groups of persons working together and hence it is serious for an organization's long-term survival and competitiveness.
According to Isaksen and Ekvall, organisational creativity should continuously result in something new and useful that is, valued by the organisation.
Anderson said, workplace creativity signifies an outcome and product of efforts to develop and introduce new and improved ways of doing things.
Creativity is a necessary behaviour which is valued in the organisation, and which may be encouraged and rewarded according to Baer and Oldham.
Kao views, creativity as the result of the interaction between the person, and the task in the organizational context.
Creativity, they argue, is a repeating process whereby different individuals interact with the group to solve issues on their own and they return to the group to renovate and further develop their ideas.
4Ps of Innovations – Click here
Individual Level Definitions for Creativity
Akbar Fadaee said creativity is common among the human species and all are born with talent in varying degrees.  A creative person will work hard by making regular adjustments and enhancements to their work.
creativity may be defined as the capacity to think out of the box, think alongside, observe, consider and create ideas and models that outweigh or outstrip current items and ways of thought and perception. Therefore, creativity is the capacity to detect new connections between objects and ideas.
Young defines, creativity as the realising of our potential, concerning the integration of our logical side with our instinctive side. It can involve an advance in thought but may also retain links with the previous.
10 Types of Innovations – Click here
Entrepreneurship Definitions for Creativity
Creativity is recognised as a competitive asset by Kao. Carson said, creativity is a major competency of entrepreneurs.
Creativity is a nonstop process which required parties to work hard and constantly improve ideas and solutions. Creativity in entrepreneurship also points toward the organisational environment such as team climate, teamwork and others. Creativity in entrepreneurship contains the administration in the organization that will lead to a successful company.
According to Srica, creativity is a treasure and a basic motivator of success. There are no products or services in which the inventive idea could not give value and create a competitive advantage.
Meaning creativity is, the capability to create, articulate or apply inventive ideas, techniques and perspectives often in a collective environment. Although entrepreneurship is a creative activity it focuses on excellent communication of production aspects via a suitable investment and motivated behaviour and rational risk-taking as well.
Creativity is defined as the creation of a valued, useful unique product, service, idea, procedure, or process by individuals working together in a combined social system. While entrepreneurship is a creative movement focused on optimum communication of production factors by which, through suitable investment and inspired behaviour and realistic risk-taking, positive goals and economic effects shall be reached.
Technopreneurship Challenges – Click here
Importance of Creativity in Entrepreneurship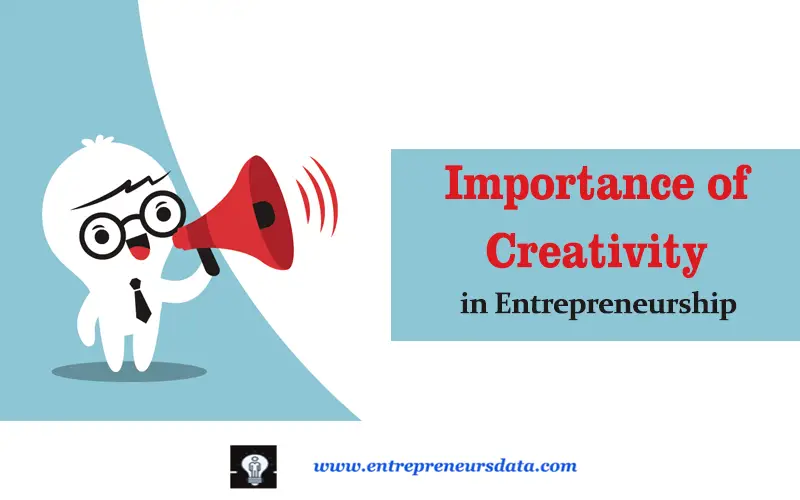 Creativity is one of the most required skills nowadays. Companies love workers who take innovative and unique tactics to solve problems and overcome challenges. The importance of creativity in business is also what helps employers and employees gain competitive advantages over competitors in the industry.
Even with the development of machine learning and artificial intelligence, organisations need creative thinkers who carry new ideas to the table. After all, technology can only be as useful as the people who operate have creativity. We are can identify the following importance in entrepreneurship creativity.
Let's discuss the importance of creativity in entrepreneurship one by one.
1. Creativity Important to Fast Problem-Solving
Creative thinking is essential for business problem-solving. This skill enables workers to discover opportunities to improve situations in which finding a solution is problematic. It also benefits them to see the problems they face from another view. This way, they can use their imagination to develop innovative approaches.
The process of creative thinking for problem-solving is not an easy task. Still, once you combine creativity with interest, effort, and teamwork, you can create unique and valuable ideas for any challenging situation you may face.
Businessman vs Entrepreneur – Click here
2. Creativity Separates Your Business from the Competition
Businesses use creative tactics to add value to their business and increase their advantage over their competitors. For example, they can attain this advantage by applying creative ideas in brainstorming for new product development. If the company offers better services or products than its competitors, it can raise its profit boundaries. These novel products or services aid the company attain new customers while also retaining the existing ones.
3. Creativity Boost Productivity
Another Importance of creativity in business is that it supports boosting productivity. By coming up with creative ideas, you get to work on novel exciting projects, which can be a motivation towards working harder than normal. Entrepreneurial creativity also aids employees' sense of respect since they get to test their boundaries and come up with something innovative. Taking a creative approach inspires more feedback from peers and administrators. With feedback, you can figure out the zones you need to progress on and work more effectually.
4. Creativity Manages your Business from Unpredictable Events
An unexpected event can open opportunities or be unsettling. Change is expected and handling this can be interesting. Effective management of unpredictable events strengthens stakeholder and customer assurance whilst taking momentum to the teams involved.
For example, the covid-19 pandemic business was affected by an unpredictable event. But creative businesses overcome these challenges by creating novel techniques, and novel solutions. The way business digitalisation takes a boost from the covid-19 pandemic is unbelievable.
5. Creativity helps Explores New Opportunities and Overcoming Obstacles
Creativity is not an easy process because it involves a vast volume of effort, time, commitment and teamwork to find ideas that are not exceptional and novel but practical and feasible at the same time. Creative problem-solving moves the company's focus from problem explanation to result in implementation with the help of innovative tactics. 
Using creative thinking in resolving problems helps you to overcome obstacles by using them as a springboard to find new opportunities and solutions. Stand-in as a catalyst of innovation, creativity helps in reinventing and refreshing your business concepts through the lenses of a progress mindset, keeping you forward of your competitors. 
Entrepreneurship Education – Click here
6. Creativity Boosts Personal Growth of Employee
A creative outlook in completing certain responsibilities at work allows employees to improve problem-solving and forecast opportunities where others might only see obstructions. Creative entrepreneurs are normally more invested in the outcome of their projects which in turn lifts productivity. 
entrepreneurial creativity makes team members feel respected and helps with their business as well as personal growth. The company gets to reach unfamiliar territories and that inspires every team member to do their best, pushing themselves beyond the limits in a satisfying manner.  
7. Creativity Helps in Important Decision Making
Creativity encourages clearness and rational reasoning, reinforces critical intelligence and sets up a good visual of the complete big picture. Mentally studying the problems and processes, coupled with knowledge, allows you to imagine numerous solutions to a single problem. 
Creativity is possible to flourish in an organisation that regularly stays open to novel ideas and inspires contribution. Workforces will feel more empowered and motivated to put their creativity into the act. Through openness, brainstorming, feedback sessions and testing, firms will be able to determine the best selection according to strategy and accessible resources. 
8. Creativity Builds Better Team 
In most administrative settings, Managers are expected to think creatively and come up with innovative answers. However, developing and harnessing the creative skills of an entire team is more likely to produce a wealthier return of creative ideas and innovative solutions. 
Creativity will encourage people to work together and the thought process allows teamwork.  A cooperative environment inspires individuals to put frontward their ideas without judgement. Effective teamwork is the outcome of purifying these individual ideas and knowledge into a collective positive outcome.
Read More About Entrepreneurship – Click here
Conclusion
In this article, we first discussed the definitions of creativity by using four different views of fields. These are general definitions for creativity, organisational definitions for creativity, individual-level definitions for creativity and entrepreneurship definitions for creativity.
After that, we discuss the Importance of Creativity in Entrepreneurship. Under that, we discuss 8 different importance of creativity. So, what are your views about the Importance of Creativity in Entrepreneurship? Write down them in our comment section.
---